Selling my Astro bundle.... I got a 300i system for my birthday

This is a Garmin 430 Astro Bundle - 430 Handheld + DC 50 Collar + Fenix 3 Watch
It is the perfect bundle for your hunting adventures.
The 430 handheld unit has always had a screen protector on it. Includes a NEW antennae + the extra long distance antennae. It is already paired to the DC 50 collar and the Fenix watch so all you will have to do is to calibrate the compass for your area. The DC 50 collar is in great shape and includes a spare antennae as well as the charging clip. The Fenix 3 watch includes a bright green band so you can easily find it as well as the charging clip.
Hunting with the GPS system and the synced Fenix watch makes the hunt more enjoyable.









Handheld Tracking System for Sporting Dogs
Track up to 20 dogs¹ at a time, with ranges up to 9 miles using compatible Garmin dog collars (sold separately)

2.5-second update rate provides faster location tracking when dogs are on the run

GPS and GLONASS reception enables better satellite tracking in challenging environments than GPS alone

Comes with preloaded TOPO U.S 100K mapping; compatible with Garmin HuntView™ cards

Hunt Metrics data helps analyze your dogs' hunting patterns and behaviors; view distance traveled, time afield and more

With faster 2.5-second location updates and the capacity to follow up to 20 dogs¹, Astro 430 is a handheld powerhouse of dog-tracking performance. Intuitive and easy to use, the Astro 430 handheld features a vibrant 2.6" color display, preloaded TOPO U.S. 100K mapping, an optional in-unit rechargeable battery and Hunt Metrics data to help analyze your dogs' tracking habits in the field, so you can know how to train more effectively.
Free Shipping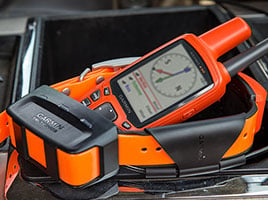 Follow Your Dog's Every Move
Using a compatible Garmin dog collar (sold separately) to transmit each dog's location as often as every 2.5 seconds, Astro 430 is quick to pinpoint the track they're following — even when they're on the run. On the Astro handheld's bright, crisp display, you can see your dog's current location and a trail of where he's been. You also can switch over to the Dog Track page to view a compass pointing to your dog's location. For help in keeping the big picture in sight when tracking multiple dogs, it's easy to auto zoom the map page, so all dogs can be seen on the display at any time. Dogs that are too far away to fit on the map's current zoom scale can be notated on the display's margin in the direction of the dog's location. To reduce visual clutter on the map, you can toggle between "show all," "show some" and "show none" — selecting the duration that each dog's track is viewable on the display. You can also share a dog's track code so another person can view your dog's location on their unit's map, along with the dog tracking compass. Further, by sharing a dog's control code, you can allow another person to configure and control your dog's on-collar device.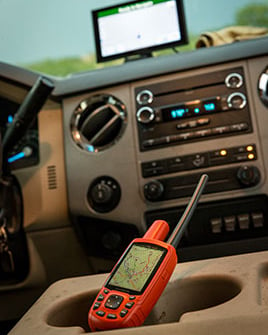 See More Detail with Additional Mapping
Astro 430 features a microSD™ card slot that allows you to load even more mapping options, such as TOPO U.S. 24K and HuntView maps (sold separately). You also can opt for City Navigator® NT map data that gives you turn-by-turn driving directions on roads. The Astro handheld's mapping depicts important nearby geographical features and enables you to see if your dog has crossed a creek or is nearing a dangerous roadway.
Astro 430 is also compatible with Garmin Custom Maps, free software that transforms paper and electronic maps into downloadable maps for your device.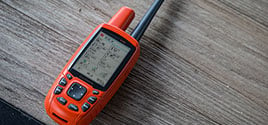 Track with Hunt Metrics Data
Sophisticated Hunt Metrics help monitor your dog's hunting patterns and behaviors to optimize your training opportunities. You can see your dog's times, distances traveled and overall scores. Plus, the Astro 430 will also capture the number of times during the hunt when an "on point" or "treed" event was indicated.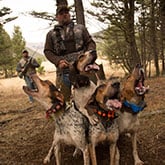 Count Your Coveys
After you've tracked down your quarry, mark the exact spot with Astro handheld's Covey Counter™, a special waypoint that shows the exact location, time of day and elevation where you found your prey as well as the number of birds you flushed and took from that location. Astro lets you save other special waypoints, such as "Truck" and "Lodge," so you can easily find your way back to these locations at the end of the hunt. Astro also offers special waypoint icons to represent food plots, tree stands and other hunting-related points.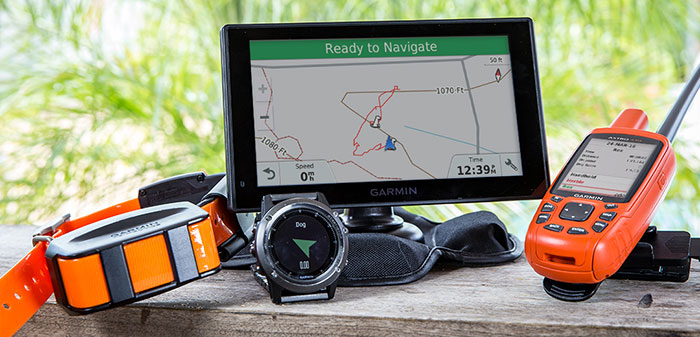 Share Wirelessly
With an expanded ecosystem of wireless connectivity options, Astro 430 can support unit-to-unit data transfer with a variety of compatible Garmin devices. For example, the rugged Tread® off-road powersport navigator or Garmin DriveTrack™ 71 car navigator (each sold separately) can receive and display dog positions on its moving map — with topographic or satellite image views — showing navigation cues to your dog's current location. Likewise, fēnix® series watches can receive dog status updates and alerts for viewing at a glance on your wrist. Also, while you're in the field, Astro 430 lets you link and share wirelessly with your buddies' compatible devices, such as the Oregon® handheld, Montana® handheld, GPSMAP® 64 chartplotter or other ANT+® enabled devices, to help coordinate hunt logistics on the go.
Turn Your Computer Into a BaseStation for Tracking Dogs
Load your laptop with BaseStation software to turn it into a field control center for tracking multiple dogs (equipped with compatible Garmin dog collars²). View real-time GPS information on the larger display of your computer, making it ideal for canine search and rescue teams. And because it's GPS and GLONASS capable, you'll get tracking, even where Internet and cellphone service isn't available.
Tough, Water-resistant, Long-Lasting
Like all Garmin outdoor products, Astro 430 is designed to be effective, easy to use, reliable and rugged enough to withstand all the blows, bumps and sloppy conditions of training and hunting. The handheld unit is water-resistant to IPX7, and it can be powered with standard AA batteries — or it's optionally available with a long-lasting NiMH battery pack that's rechargeable in the unit. What's more, if you ever drop or misplace your Astro 430 in the field, the high-visibility orange case makes it easy to track down.
DC 50 Collar
Rugged, All-weather Collar for Astro
High-sensitivity, top-mounted GPS/GLONASS receiver

Braided stainless steel VHF antenna

26–54 hour battery life

Innovative bark detection technology

Dog position updates every 5, 10, 30 or 120 seconds
This rugged, water resistant all-weather collar features a high-sensitivity, top-mounted GPS and GLONASS-enabled receiver that works with the Garmin Astro® 320 and Astro 430 handheld dog devices¹. The DC™ 50 can track additional satellites using a combined GPS and GLONASS system, which will locate your dog more quickly and maintain location even in heavy tree cover or deep canyons.
A braided steel VHF antenna adds reliability and achieves a range of up to 9 miles, depending on the terrain. And the battery lasts 26 to 54 hours, depending on the update rate. Its innovative bark detection technology alerts you if your dog is barking even beyond audible range.
With additional DC 50 transmitters (sold separately), you can track up to 10 dogs simultaneously with one Astro 320, or up to 20 dogs simultaneously with one Astro 430. The DC 50 has a replaceable collar strap (sold separately) in a variety of colors. Dog position can be set to update every 5, 10, 30 or 120 seconds. It also features a PIN-based Collar Lock feature to prevent unauthorized persons from tracking your dog.
Fenix 3 Watch
Uncompromising Multisport Training GPS Watch
Omni-directional EXO™ stainless steel antenna, with GPS/GLONASS satellite reception, has the ability to track in more challenging environments than GPS alone

1.2-inch sunlight readable Garmin Chroma Display™

Fitness training features like VO2 Max and Recovery Advisor (when used with a heart rate monitor¹)

Outdoor navigation features like 3-axis compass, altimeter and barometer, TracBack and Sight'n Go

Connect IQ™ compatibility for customized apps, widgets, watch faces and data fields

Battery life: up to 20 hours in GPS training mode; up to 6 weeks in watch mode

fēnix 3 is the rugged, capable and smart multisport training GPS watch. With feature sets for fitness training plus feature sets for outdoor navigation, fēnix 3 is ready for any training activity and competition. Access to the Connect IQ platform allows customization of watch faces, data fields, widgets and activities. And, fēnix 3 is a thin, light multisport training GPS that won't slow you down whether for training or every day use.
Serious Style That Stands Up to the Roughest Conditions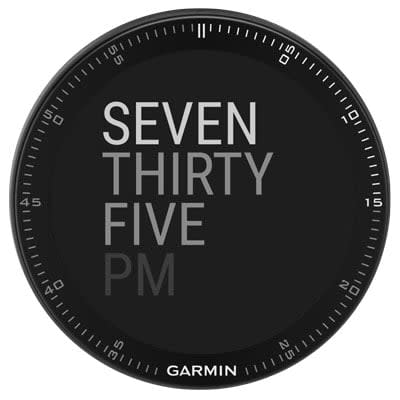 fēnix 3 is available in 3 bold models: gray with high-strength, scratch resistant, crystal and black band; silver with red band; and the premium sapphire model with a stainless steel band and sapphire lens. Each watch features a protective stainless steel bezel and buttons, and reinforced housing for extra durability. A sunlight-visible high-resolution color Garmin Chroma Display with LED backlight lets you access your data in any light. fēnix 3 is water rated 100 meters and has a battery life of up to 50 hours in UltraTrac™ battery saver mode, 16 hours in GPS mode and up to 3 months in watch mode (all depending on settings).
Advanced Fitness Metrics
fēnix 3 is packed with training features to tell you about your form and fitness. The first is the VO2 max estimator. When used with a heart rate monitor¹, fēnix 3 crunches data, including your running speed, beats per minute and heart rate variability to estimate the maximum volume of oxygen you can consume per minute. Track changes to your VO2 max to see your fitness gains and to compare with your peers. Other fitness metrics include recovery advisor with a recovery timer and recovery check, plus a Race Predictor, which estimates your ideal finish time based on your current VO2 max number.
Running Dynamics Features
fēnix 3 incorporates sophisticated Garmin running watch feedback on your running form by reporting multiple metrics. When used with the HRM-Run monitor¹, fēnix 3 reports your cadence, vertical oscillation and ground contact time. These metrics are called running dynamics, and they affect your running economy.
Swim Profile and Ski/Board Mode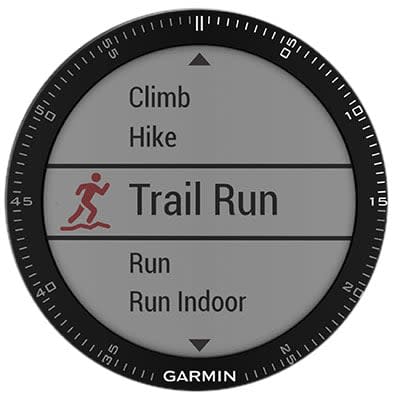 The fēnix 3 isn't just for running; special feature sets help swim training and skiing too. Borrowing from the Garmin Swim™, fēnix 3 tracks your distance, pace, stroke count and more. You just tell fēnix 3 the size of the pool you're swimming in and begin your workout. Ski/Board mode puts speed, distance, vertical drop and an automatic run counter (with Auto Pause for the lift line) and more at your fingertips. You can even use your fēnix 3 as a glove-friendly remote, via ANT+®, for the VIRB® and VIRB Elite action cameras.
Navigate Your Way
No other navigator GPS plus ABC (altimeter, barometer and compass) wristwatch offers you the combined training functions and our leading GPS technology. fēnix 3 provides comprehensive navigation and tracking functionalities to guide you on and off the beaten track. Its built-in sensors provide information on heading, elevation and weather changes.
It records a GPS track log creating a "bread crumb trail" as you move. It also allows you to mark locations, such as a start/finish line, course checkpoint, or a campsite, vehicle or other point of interest. With fēnix 3, you can create and follow courses, mark up to 1,000 locations and store up to 10,000 track points and navigate to them.
Plan trips and share adventures with friends and family using BaseCamp™.
Altimeter, Barometer and Compass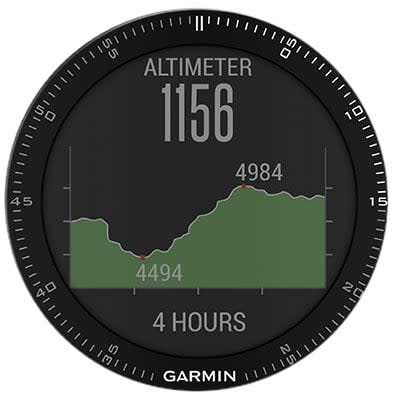 fēnix 3 is equipped with ABC sensors to provide relevant real-time information. The built-in altimeter provides elevation data to accurately monitor ascent and descent, while the barometer can be used to predict weather changes by showing short-term trends in air pressure. The 3-axis electronic compass keeps your bearing whether you're moving or not.
fēnix 3 auto-calibrates its ABC sensors using its GPS receiver and also auto sets the time based on location. For an extremely accurate temperature reading, pair it with our tempe™ external temperature sensor.
Custom Apps and Watch Faces
Personalize fēnix 3 with free downloads from our Connect IQ store. You can customize your watch face, add data fields and get apps and widgets that provide information at a glance.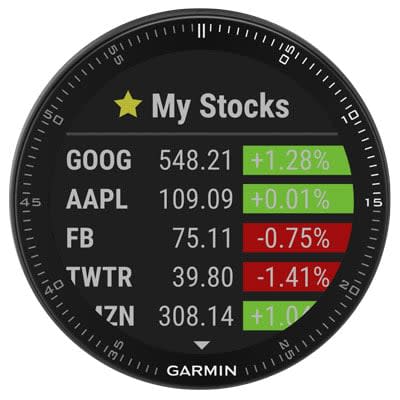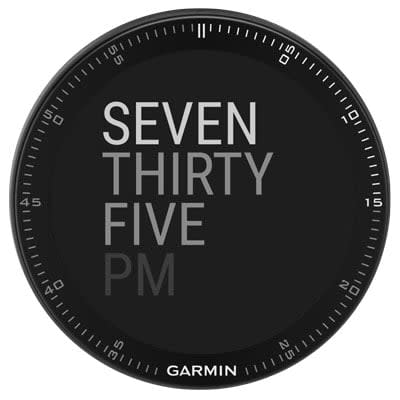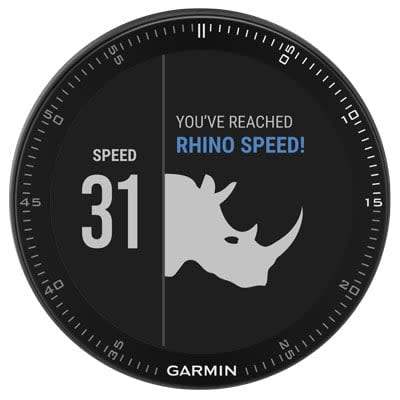 Stay Connected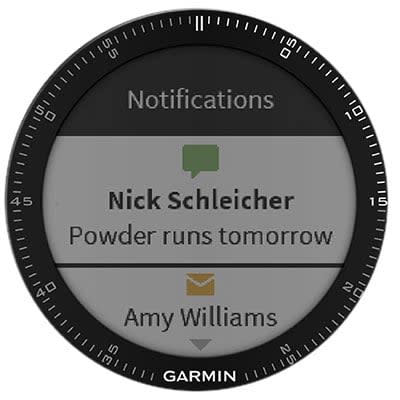 Smart notifications let you receive emails, texts and alerts right on your watch, even if you're on the trail. fēnix 3 receives the wireless signal from a compatible iPhone® 4s (or newer) or Android™ smartphone² and lets you know you have a message, displaying the text on its own screen whenever you're ready to read it.
Wear Your Personality on Your Sleeve
Download the free Garmin Face It™ watch face app to customize your device with any photo from your smartphone. Just download the app, choose an image from your photo library, adjust the style for time and set it as your watch's face. Whether it's a scenic view from your last hike or a picture of your new puppy, with Garmin you can add personality to your watch that's uniquely you.
¹Heart rate monitors and HRM-run, sold separately.
²When paired with a compatible smartphone
Device wear and care
The Bluetooth word mark and logos are registered trademarks owned by Bluetooth SIG, INC. iPhone and App Store are trademarks of Apple Inc. Android and Google Play are trademarks of Google Inc.